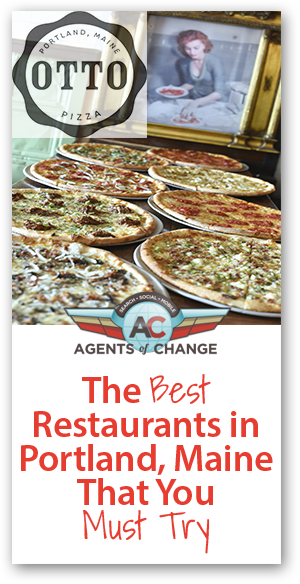 One of the things that Portland, Maine is most famous for is the amazing selection of restaurants. For foodies, Portland is definitely a top destination.
Which will explain why we had such a hard time whittling the list down…or updating it for 2016! We wanted to freshen this list up for the repeat AOC attendees! Below there are twenty options for dining while you are here for the Agents of Change Conference. Make sure you check out some of our faves!
American/Seafood:
1. Eve's at the Garden -Located on Fore Street in the Old Port, Eve's offers a cozy lounge and comfortable dining room. Their executive chef visits farmer's and fish markets as routinely as possible to acquire the freshest ingredients. They serve all meals from Brunch to Dinner!  
Our Recommendation: The Lamb Meatballs
2. Local 188 – Where else can you mix great drinks, delicious food, and exquisite art? Local 188 has all of that covered under one roof. A restaurant area, lounge area, and a bar make all the foodie and art enthusiasts line up. Local 188 is a firm believer of the farm to table method, trying to incorporate all of Maine's flavor in their dishes.
         Our Recommendation: Seafood Paella
3. Grace – This restaurant was created in an old church and has the coolest atmosphere. All the original church details are still there with beautiful stained glass windows and a balcony surrounding the restaurant. Its menu includes drinks that stick with the theme called "the heated affair" and "redemption." 
Our Recommendation: Black Angus Hangar Steak
4. The Treehouse – Just outside of the Old Port in Deering Center, The Treehouse is located above Pat's Meat Market. The top floor feel and the ambiance of the restaurant actually make you feel like you are inside a tree house. There are plenty of local beers to choose from as well of mixed drinks and wine. Their specialties are American, Greek, Mediterranean, Seafood, and Vegetarian.
             Our Recommendation: Ravioli Crisps 
5. Scales – Situated on the Maine Wharf, Scales offers a ton of fresh seafood as well as creative entrees they like to call "landfood". Scales is owned by the same owners of Street and Co., Fore Street, and Standard Baking Co., which are all worth visiting. 
Our Recommendation: Smoked Fish Chowder
6. Old Port Sea Grill & Raw Bar– The Sea Grill is your one stop shop for all your seafood needs. From lobster to oysters they have it all. Happy Hour every night makes the oysters taste even better. 
Our Recommendation: Maine Lobster Roll
Italian:
7. Anthony's Italian Kitchen – Tucked away on Middle Street in Downtown Portland, Anthony's doesn't just offer an authentic 4th Generation Italian recipes from Naples, Italy but it also offers a show; with their show changes monthly. They also have a very affordable lunch, if you need to grab a quick bite to eat on the go! 
Our Recommendation: Eggplant Parmesan 
8. Paciarino – Paciarino prides itself of their homemade pasta and fresh sauces. These recipes have been brought over straight from Milan, Italy. With pastas and sauces made daily, Paciarino is sure to be a hotspot if you love authentic Italian food. 
Our Recommendation: Ravioli Goat Cheese Al Pomodoro
9. Crooners & Cocktails – We're calling all Frank Sinatra and Dean Martin fans, step into this eatery and immerse yourself in this super cool throwback dining experience. Their drink menu is divine, where many drinks being named after the Rat Pack. This is surely a spot you won't want to miss even if's only for a drink.
Our Recommendation: Grilled Barbecue Pork
10. The Corner Room – offers an affordable, rustic Italian-inspired menu. Menu features include fresh house made pastas, pizzas, antipasti, and artisanal breads. The Corner Room also offers one of the best happy hours around, with $3 wine and beer and free apps.
Our Recommendation: Any dish that includes their homemade pasta
Mexican:
11. Taco Escobarr -Taco lovers, rejoice! This is the place to go if you want a great Taco in Portland! Taco Escobarr gives their food an authentic Mexican taste that makes all of their patrons say "Mas!¡" 
Our Recommendation: Tacos, Duh! 
12. Zapoteca – If you are a tequila lover, this is the place for you, with the biggest selection of tequila north of New York City! Zapoteca offers very authentic Mexican fare made with local ingredients, fresh seafood, and grass fed meats when possible. Try the ceviche!
Our Recommendation: Pork Carnitas
Pizza:
13. Otto's – Everywhere you turn, it seems like Otto's pizza is popping up in Greater Portland whether it be a full-service restaurant or serving up their pizza in slice bars. Their fresh ingredients make their pizzas even more unique than their menu names. Otto's strives to make their pizza as comforting and creative as possible. 
Our Recommendation: The Masher
14. Slab – Slab pizza has been being consumed by patrons since 2014 but the recipe has been floating around Portland for a lot longer than that. There's no way anyone could eat more that two slices of the slab! 
Our Recommendation: The Hand Slab
Burgers and More:
15. Silly's – Silly's is a great restaurant situated on Washington Ave. The restaurant blends right in with the rest of houses and apartment buildings in the neighborhood. However, there is nothing similar about it if you are looking from the inside out. Their menu items have wacky names such as Chicky Chicky Bang Bang, Live and Let Fry, and Good Golly Miss Bolly. Did we mention that they have  dedicated fryers for vegan and gluten free entrees! 
Our Recommendation: Fried Pickles 
16. Timber Steakhouse and Rotisserie– Timber is Portland's Premier Steakhouse with their servings being locally sourced, grass fed, 100% all natural Black Angus beef, locally caught seafood, and a drink menu that is sure to suit your taste!   
Our Recommendation: New York Steak
17. The Great Lost Bear – The Great Lost Bear or better known as the "Bear" or "GLB" to locals has been a go-to spot for years. Their menu has something for everyone in your party; from hearty, spicy junk food to a large vegetarian selection, from steaks, salads, and All American Burgers to award winning, wicked gooey desserts. We forgot to mention, they have 78 beers on tap with over 50 Craft Beers from the Northeast and 25 Maine Microbreweries!
Our Recommendation: The All American Cheesus
Vegetarian:
18. The Green Elephant – The Green Elephant is one of Portland's vegetarian restaurants. The inspiration for their food began in Thailand and grew to include numerous Asian influences as they continuously sought to bring a spirit of equality and inclusiveness to their menu. They bring ingredients and flavors from Malaysia, Japan, China, India, and Thailand into a meat-free menu with something for everyone. 
Our Recommendation: The Chocolate Orange Torte
Breakfast:
19. Becky's – "Becky's Dinah Nothing Finah". This very popular breakfast spot is all the rage every morning with locals and tourists alike. With crowds (usually the fisherman) lining up as early as 4am to get their great spread for breakfast. This place is pretty popular, Guy Fieri taped a portion of "Diners, Drive-Ins, and Dives" there! 
Our Recommendation: The Lobster Omelet 
20. Sinful Kitchen– Sinful Kitchen is on the other side of town, but it is worth a trip down Brighton Avenue. They take an American Traditional breakfast and put their own Asian, Filipino, Hawaiian spin on all their dishes. From their Huevos Rancheros to their Stuffed French Toast, you really can't go wrong!   
Our Recommendation: Peanut Butter Cup with Chocolate Ganache Waffles
By offering just 20, we're sure we just created a firestorm. Which one did we leave off that's unforgivable? Show them a little love in the comments section!