Podcast: Play in new window | Download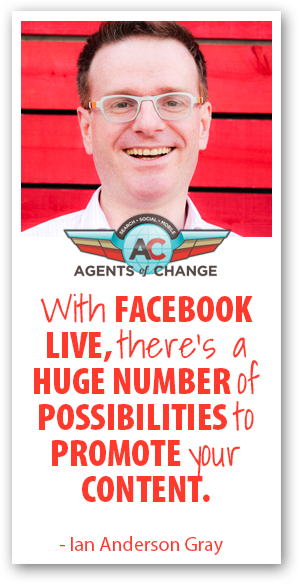 With all of the live streaming platform options out there, Facebook decided to throw their hat in the ring, too. And the result is pretty impressive. If you're a small business and you aren't currently taking advantage of this shiny new toy, then you need to check it out. Because if you're not using it, your competition surely is.
Facebook Live allows users to share their experiences and content with their followers via real-time video on their timeline. It's also pretty versatile, allowing access from both a smartphone and a computer. And as of now, Facebook's algorithm is currently set to be extremely favorable to those going Live. So without much in the way of expensive equipment needed, Facebook Live is a great way to connect and interact with your audience, as well as create evergreen content that you can then share to other platforms.
Ian Anderson Gray is a social media coach, trainer and consultant who loves to teach business owners how to leverage Facebook Live to engage and connect with their audience, all while creating valuable content to attract and retain viewers and customers.
Podcast: Play in new window | Download