Podcast: Play in new window | Download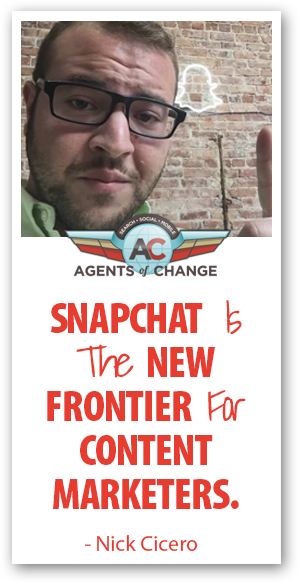 When Snapchat first came on the scene, it was widely known as the "sexting platform", where teens and millennials ruled the demographic. But like many social media platforms, marketers began to see it's potential for businesses as a powerful marketing tool, making it the fastest growing social network to date.
One of the aspects that sets Snapchat apart from its competing platforms, is that these posts  – or "snaps" – either videos or pictures, don't just sit around and get lost in a user's timeline, once they are opened. They are only around for 1-10 seconds before they disappear, allowing you to have your audience's undivided attention once they open your snap. So make sure you get creative and offer extremely valuable content. You are giving your audience a unique opportunity to really engage with your brand in real time, so get savvy and create stories they can relate to.
Nick Cicero knows social media platforms inside and out, and is a leading authority on how to get the most out of your marketing initiatives.
Podcast: Play in new window | Download