Podcast: Play in new window | Download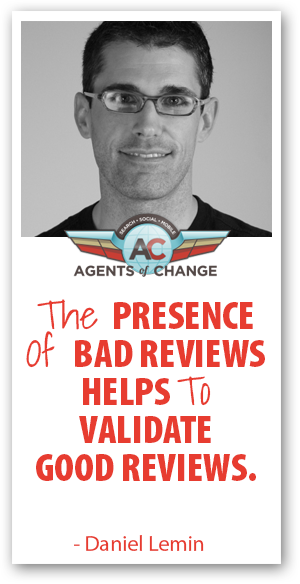 Whether or not your particular business depends on ratings to get customers, it's still unsettling to see even one bad review, and even harder not to take it personally. But once that bad review is posted, how do you move on from that, and is it really as bad for our business as we think it is?
In the business world, reputation means a great deal. What better way to build that reputation than by encouraging your happy customers to write a review, share their experience and recommend you to others on one of the many online review sites, such as Yelp or TripAdvisor. How you deal with negative reviews is also important, especially if you are skilled in knowing how to turn a bad review into a positive spin for your business – and it is possible!
Daniel Lemin was a pioneer in realizing the importance and power of online ratings and reviews, and understands the struggles business owners have with maintaining their online reputations. In this episode he shares his experiences, ideas and strategies for building and maintaining business reputations online, and how to put a spin on the negative ratings that can still make your business look good.
Podcast: Play in new window | Download