Podcast: Play in new window | Download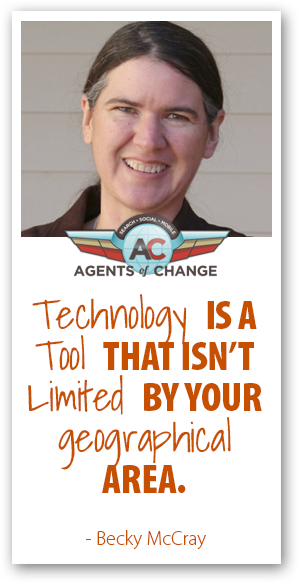 Every business, regardless of the size of both the company or the community it is in, faces a certain amount of struggles and adversity. The key in overcoming them is to concentrate on what your strengths and advantages are and use those to leverage success. You need to stand out from your competition, whether you are one of 300 or only 3 of a particular business in your community.
A common assumption is that big businesses and corporations have the upper hand over small businesses, and certainly those in very small, rural communities. How could the little guys possibly compete with the big guys, right? Wrong. In the world of technology – and certainly social media – no one is limited solely by their geographical area.
Becky McCray doesn't just talk about small business and rural living, she actually lives it. As the owner of two businesses in a community of only 30 residents, her experience and practical perspective make her an authority on how small, rural businesses can grow while shaping and greatly impacting their communities
Podcast: Play in new window | Download