Podcast: Play in new window | Download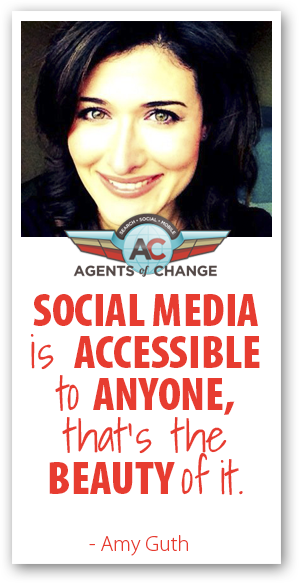 We've entered an age where less people receive their news and current events information in print but rather search for it online. And as the purveyors of news and information, our goal is to deliver this information in the most efficient, concise way, while still providing meaningful engagement to our audience.
You could say that social media has come full circle and brought us back to "person to person" business. We see customer service issues resolved in front of our eyes on Twitter and Facebook instead of behind the scenes via an 800 number. Tweets are now playing a huge role in real time search results. Part of realizing that is knowing how to strategically craft the perfect tweet. Some valuable tips that will bump you up in the search results are to use SEO tactics in your tweets and learning how to maximize your tweet real estate by pumping out your keywords in the beginning versus the end of the post. And always, always fill out your Google profile!
Amy Guth is a true renaissance woman who also happens to know how to win in social media. Her ideas and techniques have helped make the Chicago Tribune's social media presence stand out among its peers, while leading the way for news to have an immediate and lasting impact on the way we, as consumers, receive it.
Rich: Amy Guth is the General Manager/Publisher and oversees operations of RedEye and Metromix at Tribune Publishing Company, is a show host on WGN radio, and is an adjunct faculty member of University of Chicago's Graham school where she teaches social media. (more…)
Podcast: Play in new window | Download