Podcast: Play in new window | Download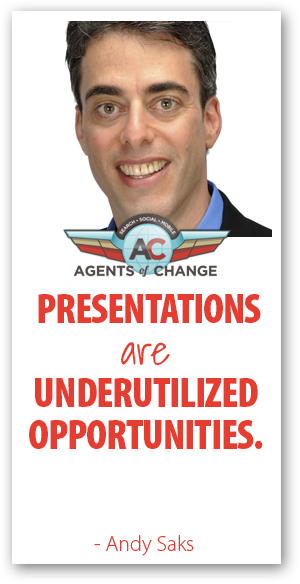 Does just the thought of speaking in public make your heart beat faster, your palms sweat and you feel like you might faint? You're certainly not alone. The fear of public speaking is the highest ranked fear, even over death. Over death!?
The biggest problem to overcome is how to control our natural "fight or flight" instinct. Although we can't – and shouldn't – try to eliminate that natural response, learning how to control it is the key to successful public speaking where you remain calm, insight trust in your audience, and in turn, success for you and your business.
Andy Saks knows the importance that public speaking can have on you to help you stand out in the crowd as well as help you generate leads for your business. His expertise on the topic – found both in his programs as well as his book, Presentation Playbook Series – has helped many people learn to utilize presentation opportunities to generate connections, leads, sales and more. (more…)
Podcast: Play in new window | Download