Podcast: Play in new window | Download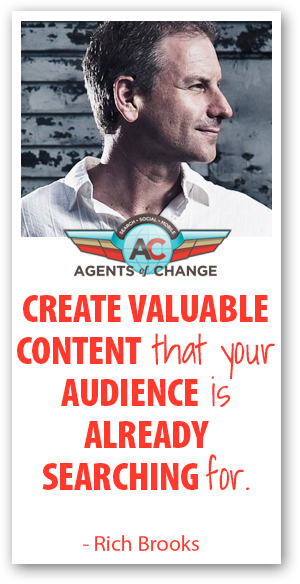 You've got yourself a website and a blog, but how do you get people to notice you? You can't just post a few blog entries, sit back, and wait for the traffic to come. So how do you get noticed, find an audience and keep them?
There's more to content creation than just writing a few articles. Learning how to write effectively to reach the people searching for your topics will be your key to success. And there are a lot of tools out there to help you, you just need to invest the time and take advantage them. Things like guest blogging, backlinks, utilizing and reading your Google Analytics reports and learning how to find the most effective keywords, not only in your posts but in the titles, can mean all the difference when it comes to beating your competition in the search rankings.
Rich Brooks – SEO consultant and owner of flyte new media – answers your questions on how to do all of this and more in this latest "Mailbag" episode of The Agents of Change Podcast.
Podcast: Play in new window | Download