Podcast: Play in new window | Download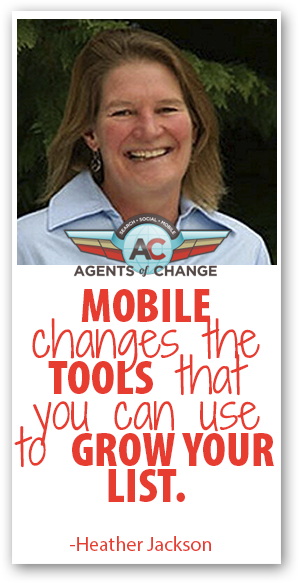 By now everyone knows that your email list is gold, as far as your business is concerned. Unlike social media sites such as Facebook, where you're basically just "renting space", your email list is your very own property, as well as an invaluable business commodity. But in this ever changing and evolving world of mobile marketing, finding a way to mesh the two together is key. .
In order to stay on top in the mobile marketing era, you need to balance keeping your email marketing efforts relevant in this age of social media. Keeping in mind how much time the average person spends on their smartphones these days – and reaching out to them there – will help to keep your business front of mind, authentic, and open up other creative opportunities for your business to engage with your audience.
Heather Jackson has more than 20 years experience helping businesses with their online and offline marketing strategies. She loves speaking and presenting at seminars and conferences on the topics of digital, social and email marketing, as well as best practices to help businesses grow using available online tools.
Podcast: Play in new window | Download