Podcast: Play in new window | Download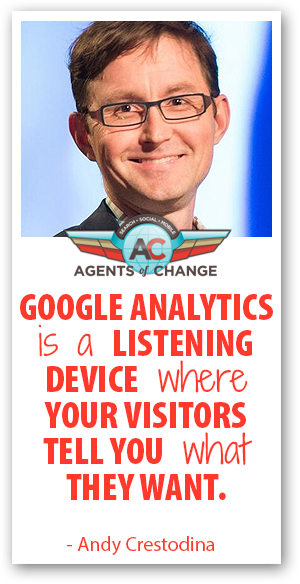 All good business decisions are based on crucial data. Knowing exactly what data will help you make the best business decisions is the key. But that sounds like a lot of work developing time consuming reports, right? Wrong. Google Analytics takes the guesswork out of it and can actually save you time and advertising dollars.
Google Analytics can easily tell you who is visiting your site, how they're getting to your site, what they're doing on your site, and if they are actually converting. By simply setting up your Analytics with a few key bits of information, you can find out all of this crucial data, and more. In essence, Google does the math for you, ensuring you more successful marketing campaigns and accurate measurability of what's working and what's not.
Andy Crestodina is a content marketing and Google Analytics savant. His knowledge, tips and advice on the topics of content strategy, search and analytics have made him one of the most passionate and sought after teachers in the marketing industry.
Podcast: Play in new window | Download