Podcast: Play in new window | Download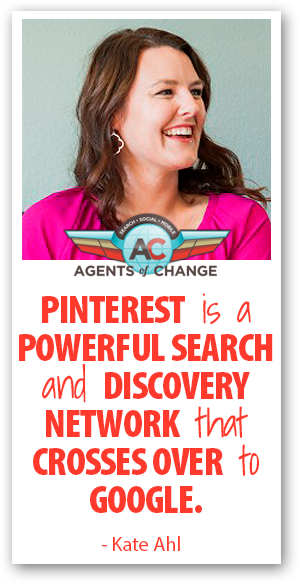 We all know by now that Pinterest has proven itself as more than a wedding planning and DIY platform. More and more businesses are seeing the power of using Pinterest to market and grow.
By following a few basic "rules", you can effectively locate and market to your audience using Pinterest. Making sure you know your audience, create visually appealing content – both original and curated – make sure your boards really show who you are and you are categorizing them well, pin with some amount of frequency/regularity, and most importantly look to other pinners for inspiration. These are the "commandments", if you will, to successful Pinterest marketing that will help you grow your small business in a steady way.
Kate Ahl is a Pinterest pro, turning what started as a personal interest in Pinterest into a business where she helps take the mystery out of Pinterest marketing, and allows her clients to sit back and relax as she puts into place strategies to grow followers and increase page views.
Podcast: Play in new window | Download