Podcast: Play in new window | Download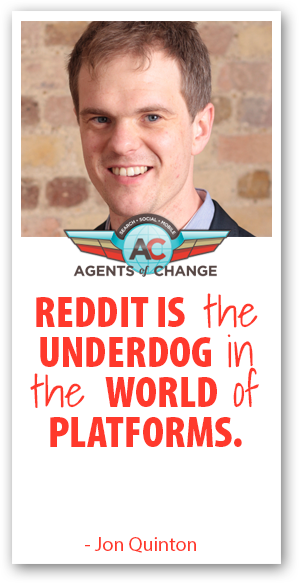 Almost any business can benefit from using Reddit as a marketing tool. Afterall, it calls itself the "Front Page of the Internet", which is more than appropriate with it's fascinating mix of interesting links, conversations, news and social commentary. It's a community for sharing content and ideas and pieces of information that you find useful.
If you're new to Reddit it can seem overwhelming at first. With the sheer volume of subReddits alone, Reddit is a neverending information buffet. The key is to just get in there and watch what's going on. Search the topic of your business audience's interest and see what people are saying. Reddit is a fantastic tool to gather ideas for things like content creation, blogs, podcasts, email newsletters and more. It will take your broad topic and niche it down into different related avenues – or subReddits –  that your ideal audience is also interested in.
Jon Quinton loves talking SEO and coffee. He has also achieved success both for his own agency as well as that of his client's by using Reddit as an effective and creative marketing tool.
Podcast: Play in new window | Download